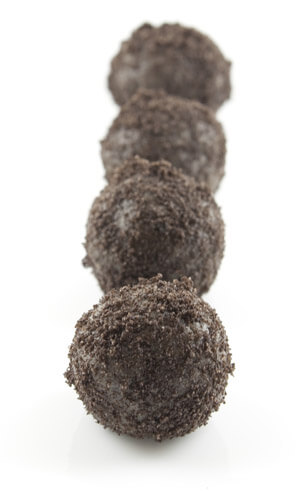 I often joke that I'm a walking advertisement for Costco because I'm always gushing about my latest find or fabulous deal. From their cute greeting cards to their juicy sweet fresh strawberries – I love it all! In fact, I've talked about Costco in eleven posts already, and this mention makes it number twelve! When I noticed the Costco Connection magazine features member recipes, I sent in two of my own and look what they published this month! Apparently my Costco karma has come full circle!
To celebrate, I decided to combine two of my favorite things – eggless cookie dough and Oreos. I whipped up a batch of my peanut butter cookie dough and mixed in some leftover Oreos. Then I rolled the dough into truffles and coated the outside of each one in more crushed cookies. Just writing this post is actually making me crave one of these little guys – they are so yummy and completely addicting! The best part is that they are the perfect treat to make on a hot summer day when you don't want to turn on the oven.
Oreo Peanut Butter Cookie Dough Truffles
Printable Recipe
Ingredients:
1/4 cup butter, softened
1/2 cup packed light brown sugar
2 tablespoons milk
1/2 cup creamy peanut butter
1/2 cup plus 2 tablespoons all-purpose flour
1/2 teaspoon salt
14 Oreo cookies
Directions:
Cream butter and brown sugar in a large bowl. Stir in milk and peanut butter and then gradually beat in flour and salt. Pulse 10 Oreos in the food processor until coarsely chopped and mix into the cookie dough. Roll into 32 1-inch spheres. Pulse remaining 4 cookies in food processor until finely ground and coat truffles in the crushed cookies. Makes 32 truffles.
Nutrition: 82 calories, 5.0g fat, 0.4g fiber, 1.5g protein per truffle
Cost: $0.10 per truffle