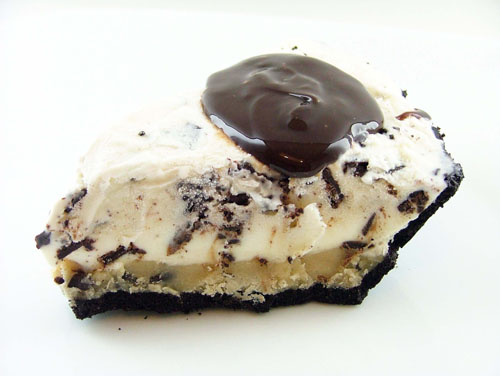 I can't believe almost a week has gone by since my last post! I just got back from an extended weekend trip to NYC with my mom and we were enjoying the city so much that I didn't quite get around to posting this recipe while we were there. We've been meaning to take this trip for a few years now and had an amazing time. I can't wait to go through my pictures and post a little recap of all the foodie spots we visited!
I've been dreaming about cookie dough a lot lately and I think the only thing better than eating cookie dough straight out of the bowl is enjoying it in a dessert! This is a really easy no bake recipe that comes together in no time, but is just incredible with the perfect ratio of cookie dough to ice cream.  This is one of my go to dessert recipes when we have people over because it's a huge crowd pleaser. I love the pie with mint chocolate chip ice cream (which I'm sort of sad is now always natural and no longer the bright green color I enjoyed during my childhood!), but feel free to substitute your favorite ice cream flavor.
Chocolate Chip Cookie Dough Ice Cream Pie
Printable Recipe
Ingredients:
1/4 cup butter, softened
2 tablespoons granulated sugar
1/4 cup packed light brown sugar
1 tablespoon milk
1/4 teaspoon vanilla extract
1/2 cup plus 1 tablespoon all-purpose flour
1/4 teaspoon salt
1/4 cup mini semisweet chocolate chips
1 6-ounce Oreo pie crust
3 cups mint chocolate chip ice cream, softened
1/2 cup hot fudge ice cream topping, warmed
Directions:
To prepare the edible egg-free cookie dough, mix butter, granulated sugar, and brown sugar in a large bowl until creamy; add milk and vanilla and mix until well blended. Gradually mix in flour and salt; stir in mini chocolate chips.
Spread edible chocolate chip cookie dough evenly in the bottom of the Oreo crust. Place heaping spoonfuls of ice cream on top of cookie dough. Lightly press and smooth top with back of spoon. Freeze pie 2 hours or until firm.
To serve, set pie out at room temperature for 10 minutes to soften and cut into 8 wedges. Garnish each piece with warmed hot fudge ice cream topping. Makes 8 servings.
Nutrition: 376 calories, 13.7g fat, 2.1g fiber, 4.3g protein per serving
Cost: $0.69 per serving