I'm always a little amazed about how much forgotten stuff we find when we're packing. Our small kitchen has been literally been overflowing with cooking/baking supplies and I just found a brand new mini cheesecake pan hidden behind my fondant tools on top of one of our cabinets – oops. I was determined to use it before we actually moved so I made these delightful little cheesecakes.
The crust is made of crushed gingersnaps and the cheesecake filling is flavored with green tea powder, or matcha, which I scored from HMart, but can also be bought online from amazon. I added a little almond extract as well, since I've been in love with the stuff lately, most recently when I made almond cream cheese frosting to top the ginger chiffon cupcakes filled with mango mousse I saw on Shannon's blog. They were for a work wedding shower and so good (congrats Libby!). I topped my little cheesecakes with fun pieces of crystallized ginger. These are the perfect size and I will not be forgetting about this pan anytime soon!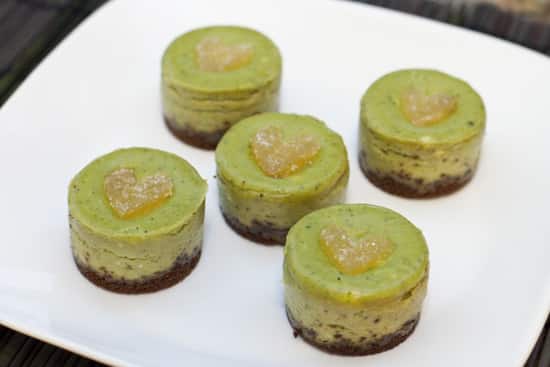 Mini Green Tea Cheesecakes
Printable Recipe
Ingredients:
1 cup gingersnap cookie crumbs
2 tablespoons unsalted butter, melted
16 ounces cream cheese, at room temperature
2/3 cup granulated sugar
2 large eggs, at room temperature
2 tablespoons matcha (green tea powder)
1/2 teaspoon almond extract
12 small pieces of crystallized ginger, for garnish
Directions:
Heat oven to 350˚F. Spray a 12-cup mini cheesecake pan with cooking spray. Mix gingersnap cookie crumbs and melted butter in a small bowl. Distribute evenly among the cups of the mini cheesecake pan and push down evenly with your fingers. Bake at 350˚F for 7 to 9 minutes or until set.
Reduce oven heat to 300˚F. Combine the cream cheese and sugar in a large bowl and beat on medium-high speed with a mixer for 3 minutes or until smooth. Beat in the eggs one at a time, mixing well after each addition and scraping down the sides of the bowl as needed. Stir in matcha and almond extract. Pour into the cups of the mini cheesecake pans and bake at 300˚F for 20 minutes or until edges are set and middle is slightly wobbly. Garnish with crystallized ginger, if desired. Cool to room temperature, about 30 minutes. Place in the refrigerator for 2 hours or until chilled and remove from the pan. Makes 12 servings.
Nutrition: 238 calories, 16.7g fat, 0.2g fiber, 4.4g protein per mini cheesecake
Cost: $0.46 per mini cheesecake