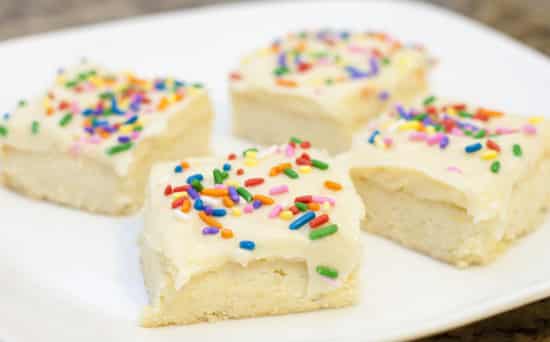 What makes these birthday bars? The sprinkles! I just can't resist desserts covered in sprinkles, and sugar cookies with a nice thick layer of frosting are one of my favorite treats. I recently decided to bake up some fun sprinkle covered sugar cookies with my own special twist!
I love making bar cookies because they're so easy to throw together. I mixed the perfect amount of lemon zest and almond extract into the cookie dough and topped the bars with an ooey gooey frosting made with cream cheese, lemon curd, and powdered sugar. And of course, added a healthy dose of sprinkles on top. My birthday isn't until tomorrow, but I've been enjoying these all week!
Lemon Birthday Bars
Printable Recipe
Ingredients:
1/2 cup unsalted butter, at room temperature
3/4 cup granulated sugar
1 large egg
1/2 teaspoon almond extract
1 1/4 cups all-purpose flour
1 teaspoon finely grated lemon zest
1/2 teaspoon baking powder
1/2 teaspoon salt
8 ounces cream cheese, at room temperature
1/2 cup lemon curd
3/4 cup powdered sugar
2 tablespoons sprinkles
Directions:
To make the bar cookies, heat oven to 350˚F. In a large bowl, cream butter and sugar together. Mix in egg and almond extract; stir in flour, lemon zest, baking powder, and salt until soft dough forms. Spread dough in bottom of a greased 8×8-inch square pan. Bake 18 to 20 minutes at 350˚F or until light golden brown on the edges and a toothpick in the center comes out clean. Cool completely, about 1 hour.
To make the frosting, place cream cheese and lemon curd in a large bowl and beat with an electric mixer until smooth. Mix in powdered sugar until smooth. Spread frosting evenly over cooled sugar cookie bars and top evenly with sprinkles. Cut into 16 bars.
Nutrition: 225 calories, 13.8g fat, 0.3g fiber, 2.9g protein per bar
Cost: $0.34 per bar