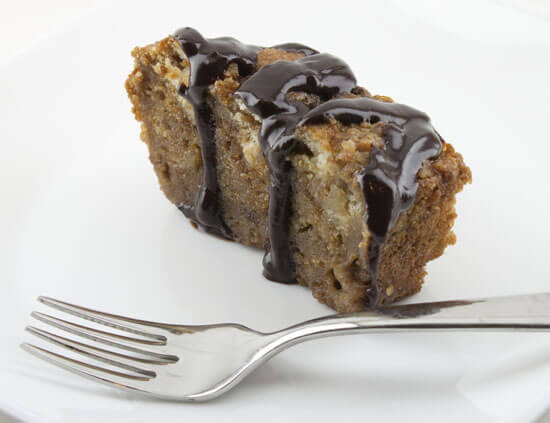 Apolinaras and I just booked a trip to Lithuania! He grew up there and came to the US in 1995 for college, and while I've heard a lot about it, I actually haven't visited yet. So I'm very excited to see where he grew up, meet his extended family, and visit the Curonian Spit, which was recently named the second best beach in the world by The Lonely Planet. You can probably guess that I also can't wait to try the local cuisine! I love being inspired by flavor combinations during our vacations.
In fact, one of the first things I did when I got home from URS was to make this bread pudding because I was so inspired by Andria's idea to use donuts instead of bread in her version of the dessert! My own little twist was to add instant coffee since donuts remind me of breakfast (I may or may not have started my day with this treat one day…), and I couldn't resist a little chocolate drizzle. This is a really easy dessert to pull together since you're already starting with the baked donuts.
Mocha Donut Pudding
Printable Recipe
Ingredients:
1/2 cup sugar
3 large eggs
1 1/2 cups milk
2 tablespoons instant coffee
1 teaspoon vanilla extract
5 cups cubed cake donuts (I used a 12 ounce package of 12 donuts)
1/4 cup hot fudge sauce or warm chocolate ganache
Directions:
Heat oven to 350˚F. Place doughnut chunks in a greased 9-inch bread pan. Whisk eggs and milk until smooth in a medium bowl. Stir in sugar, instant coffee, and vanilla extract. Pour egg mixture over doughnuts and soak for 5 to 10 minutes.
Bake donut pudding for 40 to 50 minutes or until the custard is set, but still soft. Cool slightly and cut into slices. Drizzle hot fudge or warm chocolate ganache over each piece. Makes 8 servings.
Nutrition: 406 calories, 20.7g fat, 1.1g fiber, 7.5g protein per serving
Cost: $0.65 per serving