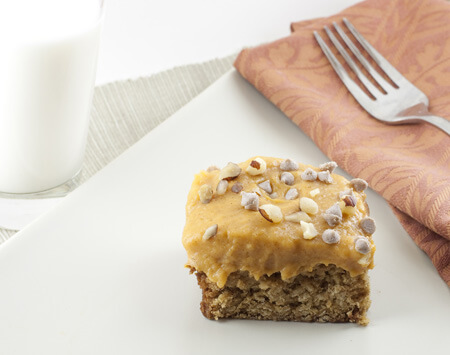 Is everyone ready for the holidays? We finished our Christmas shopping today and our cards are all ready to be sent out tomorrow. Christmas has definitely snuck up on us this year though and I haven't had the chance to do any holiday baking yet. I hope I can squeeze some in soon because there's not much time left!
I do want to share some treats that I made with the hazelnut flour and mini cinnamon chips I scored from King Arthur Flour a few months ago. I originally made these bars for my lab right before Thanksgiving, but the night I was mixing them up, Apolinaras told me that he needed to bring something to a TDay potluck at work…so his coworkers ended up enjoying them instead. He's such a lucky guy that I already happened to be baking something!
The oatmeal cookie base contains browned butter, pumpkin butter, and hazelnut flour, and the pumpkin layer on top is lovely faux mousse made with pumpkin puree and instant pudding. I topped the bars with chopped toasted hazelnuts and the cinnamon chips. Hopefully I'll have time to make and share another treat before Christmas too!
Pumpkin Hazelnut Oatmeal Cookie Bars
Printable Recipe
Ingredients:
Cookie Base:
1/2 cup unsalted butter
1/4 cup pumpkin butter
1/2 cup packed brown sugar
1/4 cup granulated sugar
1 large egg
1 teaspoon vanilla extract
1/2 cup all-purpose flour
1/2 cup toasted hazelnut flour
1/2 teaspoon cinnamon
1 teaspoon baking powder
1 teaspoon salt
1 1/2 cups instant oats
Pumpkin Layer:
1 (3.4-oz.) package instant vanilla pudding
1/2 cup milk
1/4 cup sweetened condensed milk
1 15-ounce can pure pumpkin puree
3/4 teaspoon cinnamon
1/4 teaspoon ginger
1/4 teaspoon nutmeg
2 tablespoons chopped toasted hazelnuts
2 tablespoons mini cinnamon chips
Directions:
Heat oven to 350˚F. Place butter in a small nonstick skillet and cook for 4 to 5 minutes over medium heat or until browned. Place browned butter, pumpkin butter, brown sugar, and granulated sugar in a large bowl and mix until smooth. Mix in egg and vanilla extract. Stir in all-purpose flour, hazelnut flour, cinnamon, baking powder, and salt. Mix in oats. Press cookie dough evenly in the bottom of a greased 8×8-inch square pan. Bake at 350˚F for 20 to 25 minutes or until a toothpick inserted in the center comes out clean and cookie base is golden brown. Cool to room temperature, about 30 minutes.
Meanwhile, prepare pumpkin layer. In a large bowl mix instant pudding, milk, condensed milk, pumpkin puree, cinnamon, ginger, and nutmeg. Refrigerate 10 minutes or until set. Spread pumpkin filling evenly over cooled cookie dough crust. Sprinkle toasted hazelnuts and cinnamon chips evenly on top. Makes 16 bars.
Nutrition: 182 calories, 9.1g fat, 2.7g fiber, 3.3g protein per serving
Cost: $0.46 per serving