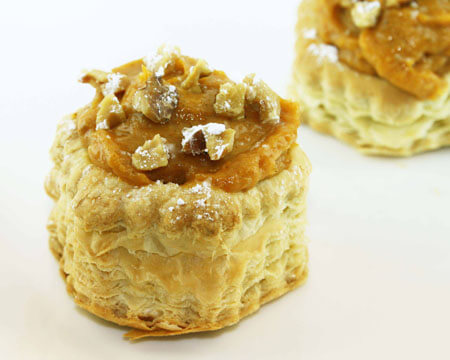 The countdown to our flight to Arizona has begun and we're playing our favorite game of trying to finish up all the perishables in our fridge before we go. We got a little off track when Apolinaras brought a half gallon of milk home on Sunday and thawed six pork chops, but there are only two porkchops left, so I think we still have a shot! Even the huge roll of goat cheese from Costco is over half way gone and I'm going to make this pizza tomorrow night to use up the rest of it. I also found a cup of extra pumpkin puree in the fridge that was leftover from making Apolinaras his favorite low-fat oatmeal cookies the other day and decided to make myself a little treat.
I whipped up a super thick and creamy pumpkin pudding and was planning on just eating it straight out of the bowl, but some puff pastry shells caught my eye.  I was experimenting with recipe ideas for the Pepperidge Farm Puff Pastry Contest (which are due December 31, so you still have time to enter!), and had some extra shells, so I filled them with the pudding instead! I topped the little tarts with some toasted walnuts and powdered sugar and they were just a wonderful quick and easy holiday treat. Merry Christmas!
Pumpkin Puff Pastry Tarts
Printable Recipe
Ingredients:
1 (10 ounce) package Pepperidge Farm Puff Pastry Shells
1 (3.4-oz.) package instant vanilla pudding
1/2 cup milk
1/2 cup sweetened condensed milk
1 cup pure pumpkin puree
1 teaspoon pumpkin pie spice
2 tablespoon toasted chopped walnuts
1 teaspoon powdered sugar
Directions:
Prepare the puff pastry shells according to the package directions. Let baked shells cool to room temperature, about 10 minutes, and remove the tops.
Meanwhile, prepare the pumpkin filling. In a large bowl mix instant pudding, milk, condensed milk, pumpkin, and pumpkin pie spice. Refrigerate 10 minutes or until set. Scoop pumpkin filling evenly into the puff pastry shells. Sprinkle toasted walnuts and powdered sugar evenly on top of each tart. Makes 6 servings.
Nutrition: 277 calories, 4.8g fat, 1.8g fiber, 6.3g protein per serving
Cost: $1.77 per serving