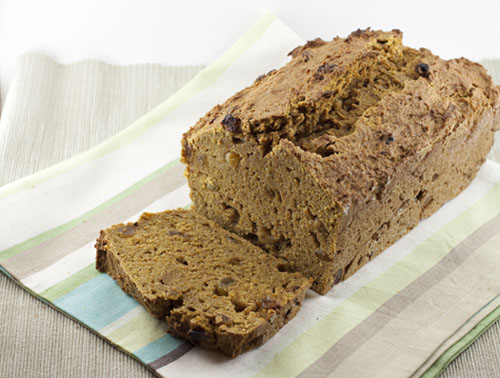 We've been all about beer lately. Apolinaras has recently gotten into home brewing and just proudly sealed 40 bottles of Oak-Aged Baltic Porter last night. It's supposed to age for at least a month before it's really ready, but I snuck a couple sips of the green stuff and am already impressed – it was really good. It's very cute to see him be as passionate as me in the kitchen!
Having beer on the brain, I decided it would be fun to try making some pumpkin bread that featured both pumpkin puree and pumpkin beer, along with some pumpkin butter from Trader Joe's. This pumpkin triple threat is definitely more savory than traditional pumpkin bread, but the golden raisins bring it all together with a slight touch of sweetness. The best part is that I only used a cup of beer in the recipe and got to enjoy the rest of the bottle while I was mixing the loaf up. I'm hoping next time I'll be able to use one of Apolinaras' brews in the recipe instead!
Pumpkin Beer Bread
Printable Recipe
Ingredients:
1 15-ounce can pure pumpkin puree
1/4 cup unsalted butter, melted
1/2 cup pumpkin butter
1/2 cup packed brown sugar
1 large egg
1 cup pumpkin beer
3 cups whole wheat flour
1 teaspoon baking soda
1/2 teaspoon ground cinnamon
1/4 teaspoon ground ginger
1/4 teaspoon fresh nutmeg
1 teaspoon salt
1 cup golden raisins
Directions:
Heat oven to 350˚F. Place pumpkin puree in a small nonstick pan and simmer over medium heat for 8 to 10 minutes, stirring frequently, or until reduced to 1 cup. Cool completely.
Lightly grease and flour a 9-inch loaf pan. Mix cooled pumpkin puree, butter, pumpkin butter, brown sugar, and egg in a large bowl until well mixed. Stir in pumpkin beer. Mix in flour, baking soda, cinnamon, ginger, nutmeg, and salt; stir in golden raisins. Spread dough into prepared pan and bake at 350˚F for 50 to 60 minutes or until a toothpick inserted into center of the loaf comes out clean. Makes 12 servings.
Nutrition: 229 calories, 4.5g fat, 5.0g fiber, 4.9g protein per serving
Cost: $0.39 per serving