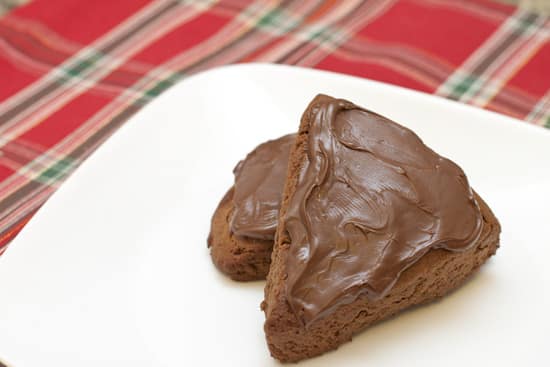 We currently have a bunch of cookies in our snack drawer at work, and lately I've been reaching first for the gingersnaps dipped in chocolate. They are just so good! Then the other day I had a light bulb moment – you know what would be even better? Gingersnaps topped with Nutella! I couldn't get this idea out of head, but since I've been on a bit a cookie overload, I decided to bake some Nutella gingerbread scones instead this weekend.
Baking with Nutella is always somewhat tricky because even if you put a hefty dose of the stuff in your batter, you often can't really taste it in the finished product. On top of this dilemma, I also wanted to balance the Nutella and strong molasses gingerbread flavors. But don't worry, I was up for the challenge, and instead of mixing Nutella into my scones, I stirred in both cocoa powder and toasted hazelnut flour, which I bought last summer from King Arthur Flour. I also added molasses, ginger, cinnamon, and cloves, and then after the scones cooled, spread a bit of Nutella on top of each one. Is there anything Nutella can't make better?
Nutella Gingerbread Scones
Printable Recipe
Ingredients:
1 2/3 cups all-purpose flour
1/3 cup toasted hazelnut flour (I bought mine from King Arthur Flour – but you could also pulse toasted hazelnuts in the food processor until ground to make your own)
1/4 cup cocoa powder
3 tablespoons packed brown sugar
1 teaspoon baking powder
1/2 teaspoon baking soda
1 teaspoon ground ginger
1/2 teaspoon ground cinnamon
1/4 teaspoon ground cloves
1/2 teaspoon salt
6 tablespoons cold unsalted butter, cut into small pieces
1/2 cup heavy cream
2 tablespoons molasses
1 large egg
1/2 teaspoon vanilla extract
1/2 cup Nutella
Directions:
Heat oven to 375˚F. Place all-purpose flour, hazelnut flour, cocoa powder, brown sugar, baking powder, baking soda, ginger, cinnamon, cloves, and salt in a large bowl and mix well. Place flour mixture in a food processor and add in cold butter chunks. Pulse several times with a food processor until a coarse meal forms; place in a large bowl. Mix cream, molasses, egg, and vanilla extract in another small bowl. Stir wet into dry ingredients until a soft dough forms.
Place dough onto a greased pizza pan, knead several times if needed, and form into an 8-inch circle. Cut the circle into eight wedges and separate the scones on the cookie sheet with a spatula so they are each at least 1 inch apart. Bake at 375˚F for 18 to 22 minutes or until a toothpick inserted into the center of each scone comes out clean. Cool completely, about 1 hour, and then evenly spread 1 tablespoon of Nutella on top of each scone. Makes 8 scones.
Nutrition: 395 calories, 23.2g fat, 2.6g fiber, 6.3g protein per scone
Cost: $0.66 per scone