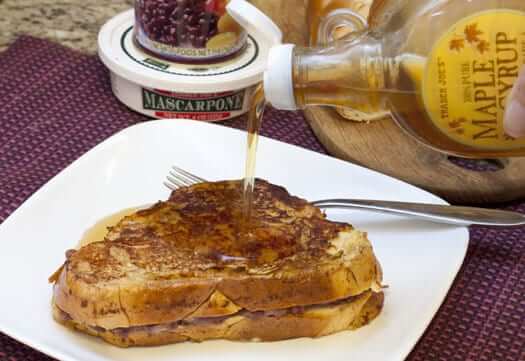 I've been trying to work on clearing out the clutter from our pantry and recently found a lonely can of red bean paste hidden away in the very back corner. How did I forget about such a treasure? It jumped into our cart at HMart a few months ago, and I was originally planning on making an Asian inspired dessert of some sort with it but instead decided to use it in French toast one weekend morning!
I just mixed the red bean paste with a bit of mascarpone cheese for the filling, which I sandwiched between nice thick slices of challah bread. Mmm, this French toast is perfect to enjoy with a nice generous amount of maple syrup since red bean paste isn't very sweet.
Red Bean Paste Stuffed French Toast
Printable Recipe
Ingredients:
1/2 cup red bean paste (from a 17 ounce can)
1/4 cup mascarpone cheese
4 thick slices challah bread (I used 6 ounces total, each slice was 3/4"-1" thick)
1/2 cup milk
2 eggs
1/2 teaspoon ground cinnamon
1/4 teaspoon vanilla extract
1 tablespoon butter
1/4 cup maple syrup
Directions:
Place red bean paste and mascarpone cheese in a small bowl and mix until smooth. Evenly spread mixture on two slices of challah bread and place the other two slices of bread on top to make two sandwiches.
Whisk milk and eggs together in a shallow dish and dip the sandwiches in the egg mixture on each side. Heat 1/2 tablespoon butter over medium heat in a large nonstick skillet. Place one soaked sandwich in the pan and fry until golden brown on both sides, about 5 minutes. Repeat with remaining sandwich and butter. Makes 2 large servings.
Nutrition: 749 calories, 29.3g fat, 6.1g fiber, 23.6g protein per serving
Cost: $2.15 per serving