Thanks so much to everyone for the bday wishes! We're continuing the celebration this weekend by going out for dinner and on a little shopping spree! There's something about the seasons changing that makes me want to buy a whole new wardrobe.
It feels like summer is almost over, but a few weeks ago during the hottest weekend of the year, my baby brother drove up to visit us after a business trip in NYC! It was his first time in Boston, so we went on a Duck Boat tour and checked out parts of the Freedom Trail, harbor, and Harvard Square. Two of the highlights were visiting the Harpoon Brewery (where they let you sample as many kinds of beer that you'd like on tap for free!) and indulging in a delicious Italian feast in the North End. After dinner we decided to have a throwdown and bought cannolis from both Mike's Pastry and Modern Pastry, which have a bit of a rivalry. The ricotta filling is sweeter at Modern and the shells are more crispy because they fill them as you order them. But, the cannolis at Mike's are double the size for the same price and are covered in more chocolate, which is always a good thing! In the end, I voted for Modern, Richard voted for Mike's, and Apolinaras couldn't pick a favorite, so it was a tie. The moral of the story is that you really can't go wrong with either choice!
I was inspired by our cannoli battle to make these cute little cannoli chips! I decided to use pita chips as the base since they're so crispy, and then topped them with sweetened ricotta cheese and mini chocolate chips. Not quite as good as the real thing, of course, but a very satisfying treat that comes together quickly and is perfect for using up that last bit of ricotta at the bottom of the tub! I suggest making the entire batch of ricotta at once and then topping just the chips you're going to eat that day so they don't get soggy.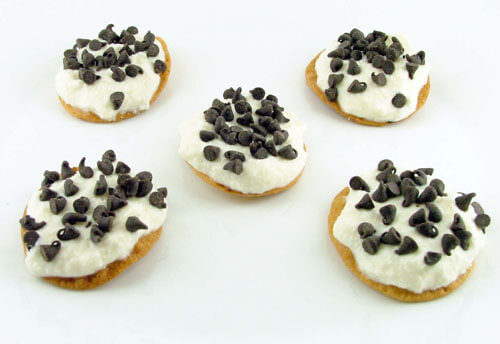 Cannoli Chips
Printable Recipe
Ingredients:
1 1/2 cups part-skim ricotta cheese
1/4 cup powdered sugar
1/4 teaspoon vanilla extract
24 pita chips
1/4 cup mini chocolate chips
Directions:
Mix ricotta cheese, powdered sugar, and vanilla extract in a medium bowl until smooth. Spread 1 tablespoon of ricotta mixture onto each pita chip and sprinkle mini chocolate chips evenly on top. Makes 24 cannoli chips (4 servings).
Nutrition: 309 calories, 14.3g fat, 1.1g fiber, 13.5g protein per serving
Cost: $0.73 per serving