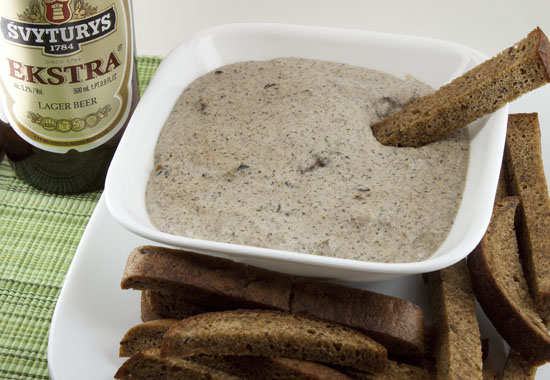 I recently had the pleasure of creating a recipe for Natasha's 5 Star Makeover Summer '10 Special that she just posted this week. For the challenge we received a package of unique ingredients from Marx Foods and were asked to use one to makeover a dish! I chose to use fennel pollen to convert traditional seared salmon into Fennel Pollen and Ginger Salmon with Coconut Lentils, but of course I couldn't resist playing with some of the other ingredients too! The box also contained Szechuan peppercorns, Madagascar vanilla beans, pasilla negro chiles, marrow beans, tepin chiles, and dried wild mushrooms (candy cap, black trumpet, and porcini!). Apolinaras actually took the mushrooms out and asked me to make a Lithuanian inspired dish with them for him, which was incredibly cute. There are over 400 species of mushrooms in Lithuania so they're a staple that he grew up with and he especially loves getting his hands on the wild ones.
When we were in Lithuania, we stumbled upon this incredible bar snack that was just genius and served everywhere – fried strips of bread that you dipped in a creamy garlic cheese sauce – yum! So, I decided to make my own lightened up version with the mushrooms. After toasting some dark rye bread, I whipped up a dip with the rehydrated wild mushrooms, cottage cheese, shallots, garlic, and parmesan cheese. We enjoyed it with some ice cold Lithuanian beers and tried to imagine we were back in Vilnius! Thanks Natasha and Marx Foods for hosting such a fun challenge!
Wild Mushroom Dip with Toasted Bread Strips
Printable Recipe
Ingredients:
1 ounce dried wild mushrooms
1 cup boiling water
16 ounces dark rye bread, cut into strips
4 tablespoons olive oil
2 shallots, chopped
2 garlic cloves, minced
1 1/2 cups 2% cottage cheese
1/3 cup freshly grated parmesan cheese
1/4 teaspoon salt
Directions:
Place dried mushrooms in a small bowl and pour boiling water on top. Let mushrooms soak for 20 minutes or until rehydrated.
Heat oven to 400˚F. Use a pastry brush to coat bread strips with 3 tablespoons olive oil and place on a large greased cookie sheet. Bake at 400˚F for 15 minutes or until toasted.
Meanwhile, heat remaining tablespoon olive oil in a nonstick skillet over medium high heat and sauté shallots for 5 to 7 minutes or until tender; add garlic and sauté 1 additional minute. Add cooked shallots, cottage cheese, parmesan cheese, half the rehydrated mushrooms, and salt to a food processor and pulse until smooth. Coarsely chop the remaining mushrooms and mix into the dip. Return dip to the skillet and heat until warmed through, about 2 minutes over medium heat. Serve with the toasted bread strips. Makes 8 servings.
Nutrition: 269 calories, 10.6g fat, 3.4g fiber, 12.9g protein per serving
Cost: $1.03 per serving