We're back from New York and had a fabulous time. Stay tuned for a recap on all our good eats and a NYC themed giveaway! Unfortunately, I've been a bit under the weather, so I haven't done much in the kitchen lately except make tea and warm up some soup. But, I have really been enjoying reading all of the "Best of 2011" posts around the blogosphere, and I've decided to play along. Without further ado, my top 11 recipes of 2011!
1. We'll start with the recipe that got the most page views (by far!) – French Onion Mac & Cheese. Ah, I can't blame you for all for loving this one – it's goooood. Soup and mac & cheese are my too favorite comfort foods, and this recipe combines the best of both worlds.
2. My Nutella Strawberry Pancakes, however, got the most comments. Nutella just makes everything better!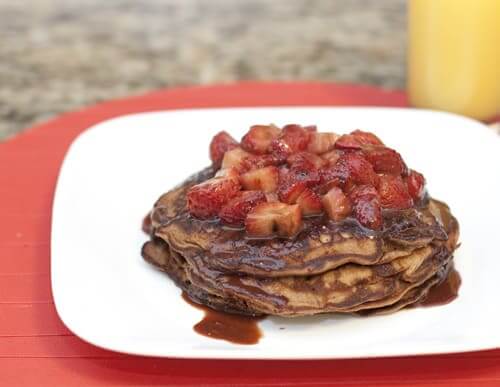 3. Now we'll move along to some of my favorites. The appetizer of the year award goes to my Plantain and Black Bean Quesadillas, because plantains just always make me happy, and these quesadillas are pretty healthy too so you can snack away with no guilt.
4. My tastiest main dish may just have been these Shrimp Tacos with Corn Salsa, which we enjoyed several times last summer.
5. Now picking a favorite dessert was definitely my toughest decision because I have a huge sweet tooth and desserts are my specialty. Plus, there are all categories of desserts – do I go with an easy bar cookie recipe or show stopping cheesecake? So tough, but I'm going to pick my Valentine's Day Heart Cookies. These cute cut-out chocolate cookies are topped with a layer of eggless cookie dough and chocolate ganache, need I say more? Amazing and easily adaptable to your favorite holiday!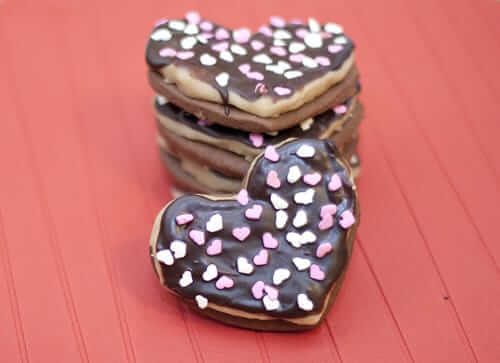 6. My Apple Coffee Layer Cake is definitely my favorite breakfast item – I was determined to make a layered coffee cake that was festive enough for a birthday breakfast celebration!
7. On to Apolinaras' favorite dish! Ok, so Apolinaras doesn't really have the time to go through all my recipes and pick one, but he requests stuffed chicken breasts all the time. He enjoyed both my Blackened Chicken Breasts Stuffed with Blue Cheese and Bacon and Spinach, Bacon, and Blue Cheese Stuffed Pecan Coated Chicken Breasts, but I think the blackened version would come out on top, simply because it doesn't have any spinach in it, haha.
8. I also wanted to highlight my favorite photo of the year. I'm trying to get better about using props in my pictures, but I tend to be really lazy about it. By the time the food is ready, I just want to eat! I think I got it right with this shot of my Chicken and Soba Romaine Salad with Thai Vinaigrette though. Plus, this is one delicious and satisfying salad.
9. My favorite restaurant inspired dish had to be these Helmand Hamburgers. I love how almost any dish can inspire a tasty and unique burger. I created these after my first trip to an Afghani restaurant.
10. I also really enjoy giving traditional dishes a little twist of my own. These Chicken Parm Eggplant Stacks are such a nice way to amp up this Italian classic. I made chicken parm (coated with my secret ingredient – croutons!) and then topped it with ricotta cheese, roasted eggplant, marinara sauce, and mozarella cheese, mmmm.
11. And finally, my weirdest most innovative recipe of the year. I think I got the side eye when I covered this Hawaiian Omelet with coconut, but I have to give the win to my Red Curry Risotto, where Thai unexpectedly meets Italian. You get the perfect amount of rice and curry sauce in each bite – I loved this!
It's been so much fun looking back at all my recipes from 2011. It makes me feel so productive (and hungry!). Thanks to you all for joining me on my culinary adventures and Happy New Year!