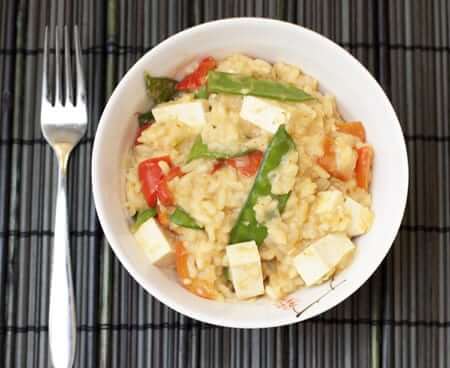 One of my favorite meals to whip up when we're low on groceries is a red or green Thai curry. We always have coconut milk, Thai curry paste, and rice in our pantry, and even if we don't have any fresh produce, I can usually at least dig up some frozen veggies to round the dish out. I have a pet peeve about Thai curries though – after spooning the curry over rice, I feel like I never quite get the perfect ratio of rice, sauce, and veggies in every bite. Then, one night while I was stirring my rice and sauce together on my plate, I realized the obvious solution was simply to make a Thai risotto with Arborio rice!
So, that's exactly what I did with this dish. I cooked shallots, ginger, garlic, and red curry paste in a pan and then added and toasted my Arborio rice. Then I slowly stirred in a mix of lychees ground in the food processor (which make this curry extra special), chicken broth, and coconut milk, and mixed in red peppers, snow peas, and tofu. I loved this risotto and will definitely be making it again!
Red Curry Risotto
Printable Recipe
Ingredients:
1 tablespoon canola oil
1 large red pepper, chopped
6 ounces snow peas
1 20 ounce can lychees in syrup, drained
3 cups low sodium chicken broth
1/3 cup coconut milk (full fat)
1 tablespoon unsalted butter
4 shallots, chopped (3/4 cup)
1 tablespoon minced fresh ginger
3 garlic cloves, minced
1 tablespoon red curry paste (or to taste)
1 cup Arborio rice
9 ounces firm tofu, cut into chunks
Directions:
Heat canola oil over medium high heat in a large pan and sauté red peppers for 3 minutes; add snow peas and sauté 3 additional minutes or until veggies are tender. Remove from heat.
Place lychees, chicken broth, and coconut milk in a food processor and pulse until smooth, about 1 minute. Meanwhile, melt butter over medium high heat in a large stockpot. Sauté the shallots for 5 to 7 minutes or until tender; add ginger, garlic, and red curry paste and sauté for an additional minute. Add the rice and stir until well-coated and translucent. Reduce heat to medium and stir in 1 cup of the chicken broth mixture. Simmer, stirring occasionally, until the stock has been absorbed; add another cup and continue in this way until all the chicken broth has been absorbed, for about 30 minutes. Stir in cooked red peppers, snow peas, and tofu. Makes 4 servings.
Nutrition: 504 calories, 18.4g fat, 4.4g fiber, 17.0g protein per serving
Cost: $2.65 per serving