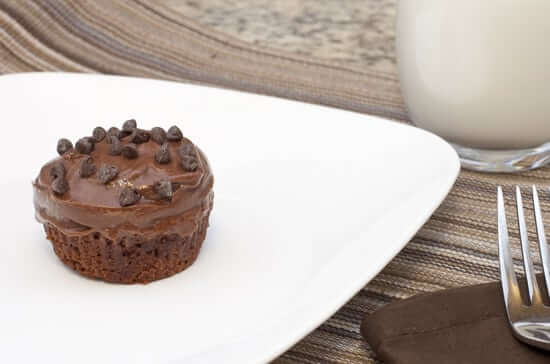 So, I had this idea to make some Nutella mousse – slightly sweetened whipped cream mixed with a generous amount of chocolate hazelnut goodness. My original plan was to top some cute little brownie cups with it, but umm, by the time the brownies were cooled, there was only enough mousse left to top half the batch…no idea what happened to the rest of the mousse. No problem though, because I got a photo of the finished product and that's all that counts, right?
Apolinaras always jokes that Nutella should be banned from recipe contests because it makes everything so delicious that using it is kind of like cheating. I have to agree with him – this mousse is just way too addicting!
Nutella Brownie Cups
Printable Recipe
Ingredients:
Brownie Cups:
1/2 cup unsalted butter
2 (1-ounce) squares unsweetened chocolate
1 teaspoon vanilla extract
1 cup granulated sugar
2 large eggs
1/2 cup plus 2 tablespoons all-purpose flour
1/2 teaspoon salt
1/3 cup Nutella
Nutella Mousse:
1 cup heavy cream
1 tablespoon powdered sugar
1/2 teaspoon vanilla extract
1 cup Nutella
3 tablespoons mini chocolate chips
Directions:
To make the brownie cups, heat oven to 350˚F. Microwave the butter and unsweetened chocolate in a microwavable bowl at high power until the butter is melted, about 2 minutes. Stir until combined, then mix in the vanilla extract. Meanwhile, beat the sugar and eggs in a large bowl and then add in the melted chocolate mixture until smooth. Stir in flour and salt; stir in Nutella until smooth. Line a regular muffin tin with 12 paper cups and evenly divide brownie batter between the cups. Bake at 350˚F for 25 minutes or until a toothpick inserted in the center comes out clean and immediately use the back of a 1/2 tablespoon measuring spoon to make a round depression in the center of each cup. Cool completely, about 30 minutes.
Meanwhile, make the Nutella mousse. Place heavy cream, powdered sugar, and vanilla extract in a well chilled large bowl and beat with a mixer until stiff peaks form. Stir in Nutella until smooth. Top cooled brownie cups evenly with Nutella mousse and mini chocolate chips. Refrigerate for an hour or until set and remove paper liners. Makes 12 cups.
Nutrition: 446 calories, 27.4g fat, 1.4g fiber, 5.2g protein per cup
Cost: $0.60 per cup