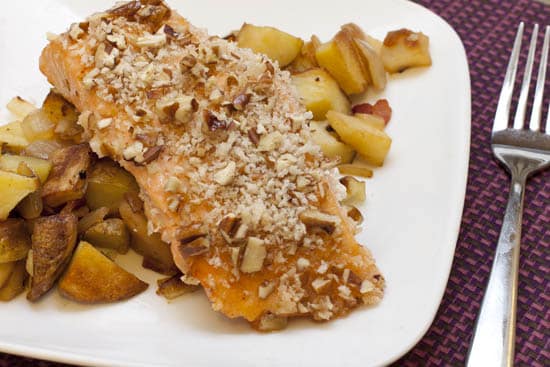 I don't usually buy a lot of produce at Costco, since it's tough for just the two of us to eat our way through their large packages of fruits and veggies before it all spoils (although I do regularly make an exception of their Brussels sprouts and berries because we gobble those right up!), but the other day a 15 pound bag of potatoes ended up in my cart. I was craving roasted potatoes and feeling way too lazy to head to the regular grocery store just to pick up a smaller package. Plus, I was feeling up for a little potato challenge!
The first thing I did when I got home was whip up a potato hash with bacon, onions, and apples. It's great for breakfast, but I enjoyed it most topped with a lovely piece of salmon glazed with maple syrup and crusted with chopped pecans and panko. This yummy meal also came together in a flash since I made the hash the day before and then just quickly cooked up the salmon before dinner. Ok, I'm off to brainstorm some more potato recipes – only 6 pounds left to go!
p.s. The winner of my Milk Bar giveaway was Bianca – congrats!
Maple Pecan Salmon over Roasted Potato, Apple, and Bacon Hash
Printable Recipe
Ingredients:
Roasted Potato, Apple, and Bacon Hash:
1 1/2 pounds potatoes, chopped into bite-sized pieces
1 tablespoon olive oil
2 slices hickory smoked bacon, chopped
1 small yellow onion, chopped
1 tart apples, peeled, cored, and chopped
1/2 teaspoon salt
Maple Pecan Salmon:
1/2 cup finely chopped pecans
1/2 cup panko
1 teaspoon salt
1 tablespoon olive oil
1/4 cup pure maple syrup
4 salmon fillets (ours were 7 ounces each)
Directions:
To make the hash, heat oven to 400°F. Place potato pieces on a large baking sheet and toss with olive oil. Roast at 400°F for 50 to 60 minutes or until tender. Meanwhile, place chopped bacon in a nonstick skillet over medium heat and sauté for 5 to 7 minutes or until crispy; drain on paper towels. Place onions and apples in the bacon grease and sauté for 5 to 7 minutes or until tender. Mix roasted potatoes, bacon, onions, apples, and salt together in a large bowl.
To make the salmon, heat oven to 350˚F. Mix pecans, panko, and salt together in a small bowl. Heat olive oil over medium high heat in a large nonstick skillet and sear the salmon fillets, about 1 to 2 minutes on each side. Place seared fillets in a large baking dish and use a pastry brush to evenly brush with maple syrup. Evenly sprinkle pecan panko and press gently into the salmon. Bake salmon for 10 to 12 minutes at 350°F or until cooked through. To serve, divide the hash evenly among 4 plates and place salmon on top. Makes 4 servings.
Nutrition: 964 calories, 58.2g fat, 6.0g fiber, 63.7g protein per serving
Cost: $4.70 per serving