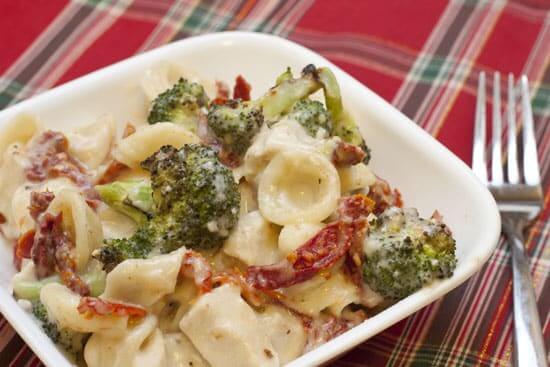 Happy Hanukah! Merry Almost Christmas! We're on a bus right now headed to New York City, where we'll be spending the holidays with my family. I'm really looking forward to eating our way through the city, and I'm especially excited about heading over to The Doughnut Plant, which my friend Britt has been urging me to check out forever. She knows how much I love donuts – I'm so excited!
I also kind of love the fact that the internet is working on our bus, and I'm blogging away. Multitasking just makes me happy – I wish I could do this daily during my regular commute! Anyway, I won't be cooking for Christmas this year, but if I was, I think I would add this mac & cheese to the menu. It's super creamy and packed with fontina, asiago, and goat cheese. Plus, the festive red and green sun dried tomatoes and roasted broccoli, respectively, just make me smile. I even snuck in some protein-packed chicken for Apolinaras, so this was a one dish meal for us, but you could leave it out and feature it as more of a side dish too. Happy Holidays to everyone!
Christmas Mac & Cheese (aka Three Cheese Mac & Cheese with Roasted Broccoli and Sun Dried Tomatoes)
Printable Recipe
Ingredients:
1 head broccoli florets (I had 5 cups, 11 ounces)
2 tablespoons olive oil, divided
1 pound orecchiette pasta
4 boneless, skinless, chicken breasts, cut into bite-sized chunks
4 tablespoons unsalted butter
1/4 cup all-purpose flour
2 1/2 cups milk (I used 2%)
2 cups shredded fontina cheese
1 cup shredded asiago cheese
8 ounces goat cheese
1 1/2 teaspoons salt
1 cup chopped sun dried tomatoes packed in olive oil, well drained
Directions:
Heat oven to 400°F. Place broccoli florets on a large cookie sheet and drizzle evenly with 1 tablespoon olive oil. Roast for 15 minutes at 400°F or until tender.
Prepare pasta according to package directions. Drain and place back in a large pot.
Meanwhile, heat remaining 1 tablespoon olive oil over medium high heat and sauté chicken for 5 to 7 minutes or until fully cooked and no longer pink in the center. Remove chicken from pan and place in the pan with the pasta; add roasted broccoli to the same pot.
Melt butter in a large saucepan over medium heat. Whisk in flour until smooth and cook one more minute or until mixture starts to brown. Whisk in milk and bring to a boil. Reduce heat to low and mix in fontina, asiago, and goat cheeses, and salt. Heat 3 to 5 minutes or until cheese is melted and mixture is smooth, whisking occasionally. Mix cheese sauce with the pasta, chicken, and broccoli in the large pot; stir in sun-dried tomatoes. Makes 8 servings.
Nutrition: 847 calories, 31.3g fat, 5.6g fiber, 57.5g protein per serving
Cost: $2.20 per serving