I recently swooned over a delicious yuzu miso sauce served with one of the tuna rolls at our local sushi joint and decided something similar must be incorporated into my next fish dish – never mind the fact that I didn't even know what yuzu was or where to find it! Well, it turns out that yuzu is a citrus fruit commonly found in East Asia. I actually managed to find a bottle of the juice during a recent trip to HMart but couldn't quite bring myself to put it in my cart for $20….so you can imagine my delight when I found the following treasure at Trader Joe's.
The orange box contains packets of a Yuzu Citrus Tisane Beverage concentrate, which you're supposed to mix into some water to enjoy – score! I whisked several of the packets together with the other ingredients in the picture – garlic, ginger, dark soy sauce, and miso – and used half the mixture to marinate some mahi mahi fillets and the other half to make a sauce to top them. I served the fish over a lovely bed of oyster mushrooms and baby bok choy, which I learned how to cook properly here. This was a lovely light summer meal, and I'm so glad I spotted that yuzu drink concentrate on the shelf!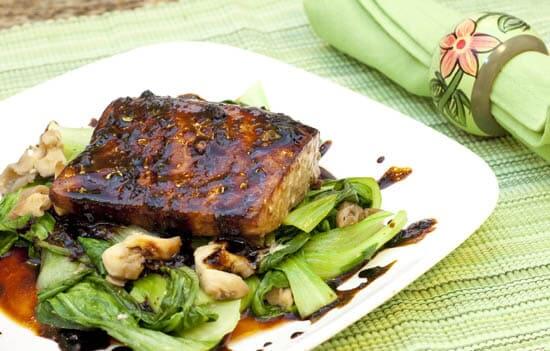 Yuzu Miso Mahi Mahi
Printable Recipe
Ingredients:
Mahi Mahi with Yuzu Miso Sauce:
6 1.1-ounce packets Yuzu Citrus Tisane Beverage from a 11.2-ounce box from Trader Joe's
1/4 cup dark soy sauce
2 tablespoons miso paste
1/2 tablespoon minced ginger
3 garlic cloves, minced
4 9-ounce mahi mahi fillets
Baby Bok Choy:
1 1/2 tablespoons canola oil
8 ounces oyster mushrooms, chopped
1/2 tablespoon minced ginger
2 garlic cloves, minced
2 pounds baby bok choy, ends trimmed
1/4 cup chicken broth
Directions:
To make the mahi mahi fillets, place yuzu beverage, soy sauce, miso, ginger, and garlic in a large bowl and whisk until miso is dissolved. Pour half the mixture (1/2 cup) into a shallow pan with the mahi mahi fillets, coat the fillets well with the marinade on both side, and marinate for 20 minutes to an hour in the fridge.
Preheat oven to 350˚F. Heat a skillet over medium-high heat and sear the mahi mahi fillets on both sides, about 1 minute on each side. Bake fish for 10 minutes at 350˚F or until cooked through. Meanwhile, make the sauce by placing the remaining unused yuzu miso mixture in a small saucepan. Simmer over medium heat for 5 minutes or until thickened and reduced.
To make the baby bok choy, heat 1/2 tablespoon canola oil over medium heat in a large wok. Add mushrooms and sauté 5 to 7 minutes or until tender. Remove mushrooms from pan and add remaining 1 tablespoons canola oil. Place ginger and garlic in the wok and sauté 1 minute or until lightly browned. Add baby bok choy to the wok and mix well. Add chicken broth, cover wok, and steam for 3 minutes or until tender. Remove from heat and stir in cooked mushrooms.
To serve, evenly distribute baby bok choy on 4 plates. Top with mahi mahi fillets and sauce. Make 4 servings.
Nutrition: 493 calories, 8.5g fat, 0.7g fiber, 65.5g protein per serving
Cost: $6.55 per serving