First of all, thanks to everyone who entered my blogiversary giveaway. A few of you correctly guessed the very common ingredient I don't like is….black pepper! In fact, when Apolinaras wants to make sure I don't dig into his portion of mac & cheese, he'll sprinkle black pepper all over it. Celery was another popular guess, and while it's not my favorite, I do enjoy it in stuffing, gumbo, and jambalaya. So, congrats to commenter number 52, Danielle, who guessed correctly and won the $80 CSN Stores gift card! The cookbooks went to commenters 54 and 81, Reeni and Amaranthian, who chose Mexican Everyday and 660 Curries, respectively.
Speaking of mac & cheese, I've admitted before that I sometimes make boxed mac and cheese with a few modifications to spice it up (I usually I use half the amount of butter, add buttermilk, and tons of cheddar cheese). One day I ran out of cheddar and randomly threw in the only two types of cheese in our fridge at the time – pecorino romano and feta. I really enjoyed it and knew I would have to make a homemade version with sharp cheddar, feta, and the pecorino – so good! I baked this version and spread a nice layer of crispy pita chips on top. This is the perfect comfort food for a cold day.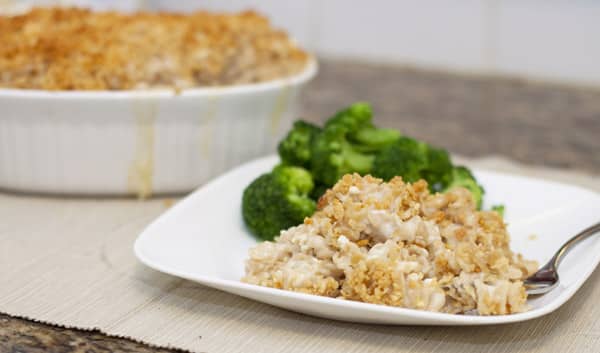 Cheddar, Feta, and Pecorino Romano Mac & Cheese
Printable Recipe
Ingredients:
1 pound whole wheat rotelle pasta
1/4 cup plus 2 tablespoons unsalted butter
1/4 cup all-purpose flour
2 1/2 cups milk (I used 2%)
2 1/2 cups shredded sharp cheddar cheese
1 1/2 cups crumbled feta
1 cup freshly grated pecorino romano
1/2 teaspoon salt
3/4 cup crushed pita chips (I used 2 1.5-ounce bags from Stacey's)
Directions:
Heat oven to 350˚F. Prepare pasta according to package directions. Drain and place back in a large pot.
Meanwhile, melt 1/4 cup butter in a saucepan over medium heat. Whisk in flour until smooth and cook one more minute or until mixture starts to brown. Whisk in milk and bring to a boil. Reduce heat to low and mix in cheddar cheese, feta, pecorino romano, and salt. Heat 5 minutes or until cheese is melted and mixture is smooth (note – my chunks of feta didn't melt). Mix cheese sauce with cooked pasta in the large pot. Pour pasta into a 1 1/2 quart oval stoneware baking dish.
Place remaining 2 tablespoons butter in a small microwavable bowl and microwave on high for 30 seconds or until melted. Mix crushed pita chips and melted butter in a small bowl. Sprinkle chips evenly over mac & cheese and bake at 350˚F for 30 minutes or until cheese is bubbly and pita topping is golden brown. Makes 8 servings.
Nutrition: 602 calories, 30.5g fat, 5.9g fiber, 26.5g protein per serving
Cost: $1.09 per serving