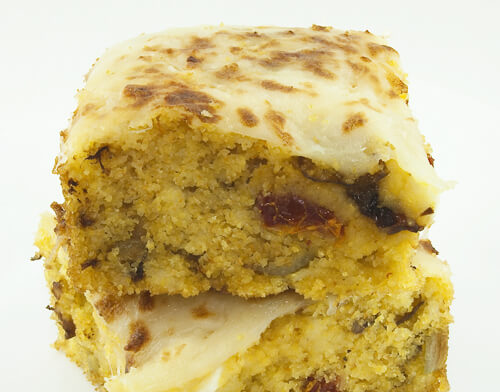 It snowed all weekend here in Boston, so I decided it was time to bake up some warm and comforting homemade bread! I was originally planning on tackling a recipe from Peter Reinhart's The Bread Baker's Apprentice, but was out of yeast and not about to set out in the snow just to get one item from the store, so I decided to make a cheesy cornbread instead. I've seen a few recipes for Southwestern cornbread with cheddar cheese and jalapenos, but decided that a Mediterranean twist would also be delicious. I figured the flavor combo would work well since polenta is such a staple of Italian cuisine.
I stuffed the cornbread with caramelized shallots, sun-dried tomatoes, and feta, and then put a bubbly layer of melted mozzarella goodness on top. Mmmm. I'm a bit embarrassed to admit that we devoured 6 out of the 9 pieces the same day that it was made… There's nothing wrong with cornbread for lunch, right? Good thing the gym is open again! Oh, and you definitely want to serve it warm!
p.s. I'm submitting this to 5 Star Foodie's Cornbread Makeover!
Mediterranean Cornbread
Printable Recipe
Ingredients:
1 tablespoon olive oil
1 cup chopped shallots (4 large)
1 cup all-purpose flour
1 cup yellow cornmeal
2 tablespoons sugar
1 teaspoon baking soda
1/2 teaspoon salt
1/2 cup unsalted butter, softened
2 large eggs
1 cup buttermilk
1/2 cup chopped sun-dried tomatoes
1/2 cup feta
1 1/2 cups shredded mozzarella cheese
Directions:
Preheat oven to 350˚F. Heat olive oil over medium heat in a large nonstick skillet.  Sauté shallots for 15 to 17 minutes, stirring frequently, or until caramelized.
Meanwhile, combine flour, cornmeal, sugar, baking soda, and salt in a medium bowl. Whisk together butter, eggs, and buttermilk in a large bowl. Stir the dry ingredients into the wet ingredients until most of the lumps are dissolved. Stir in the caramelized shallots, sun-dried tomatoes, and feta. Pour the batter into a greased 8×8-inch square pan. Bake at 350˚F for 23 to 27 minutes or until a toothpick inserted into the center comes out clean.
Preheat broiler. Evenly spread shredded mozzarella cheese over the cooked cornbread. Broil for 2 to 3 minutes or until cheese is melted. Cool for 5 minutes and cut into 9 squares; serve warm. Makes 9 servings.
Nutrition: 331 calories, 19.1g fat, 1.7g fiber, 10.4g protein per serving
Cost: $0.58 per serving