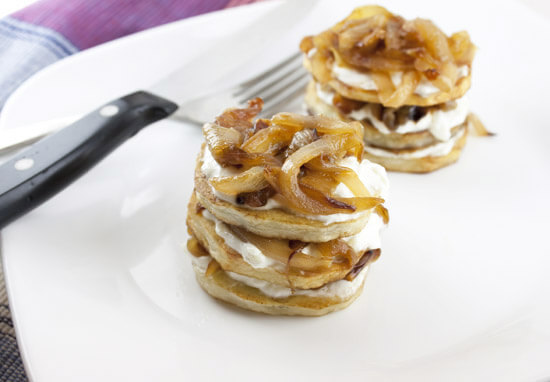 I don't eat beef very often. In fact, you may have noticed that there are no recipes featuring beef on my blog because it's a protein I very rarely cook at home. But, every once in awhile I get a craving for a juicy medium rare dry-aged New York strip steak or hamburger smothered in cheese and mushrooms. Well, after making these cute little potato stacks last night, I've been completely dreaming of the former because I can just imagine them on the a la carte menu of a fancy steakhouse!
I decided to put some extra effort into our side dish last night and layered pan-fried potato slices with two of my very favorite ingredients – goat cheese and caramelized onions. I'm normally too impatient to wait for onions to caramelize but it was definitely worth doing so for these little guys. They are perfect for serving to guests and oh so tasty!
Caramelized Onion and Goat Cheese Potato Stacks
Printable Recipe
Ingredients:
3 tablespoons olive oil
2 large yellow onions, cut into thin strips
2 large potatoes, scrubbed, peeled, and cut into 1/4-inch thick round slices
6 ounces goat cheese
1/4 cup freshly grated parmesan cheese
1/4 cup milk
Directions:
Heat 1 tablespoon olive oil over medium low heat in a large nonstick pan and cook onions for 30 to 40 minutes, or until caramelized, stirring occasionally.
Meanwhile, working in batches, heat remaining 2 tablespoons olive oil over medium heat in a large nonstick pan and cook potato slices until golden brown and cooked through, about 4 to 5 minutes per side.
Mix goat cheese, parmesan cheese, and milk in a small bowl until smooth.
To assemble the potato stacks, top a potato slice with some goat cheese spread and caramelized onions. Do this two more times for each stack so that you have 10 stacks containing three potato slices each. Makes 5 servings of 2 stacks each.
Nutrition: 328 calories, 17.2g fat, 4.3g fiber, 12.5g protein per serving
Cost: $1.01 per serving