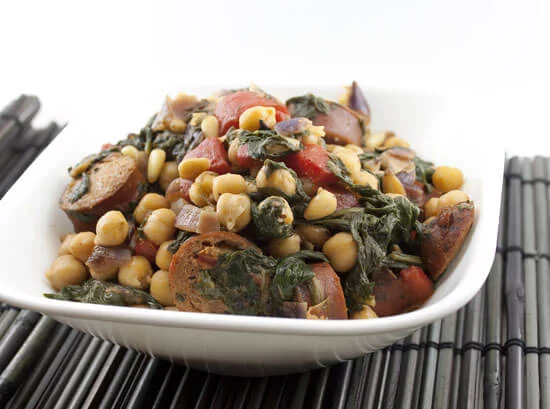 We're back! Our trip to Lithuania was amazing and I'm going to work on sorting through all our pictures this weekend so I can share a recap with you. There were two things I couldn't wait to do once we returned home though – one was sleeping in our own bed because we splurged on the best mattress ever and I always miss it when we travel, and of course I was also itching to get into the kitchen.
Since Lithuanian cuisine is pretty heavy, I was craving a healthy meal after we had settled in and restocked on groceries. I made this excellent Mark Bittman recipe that I found on Adrienne's blog a few months ago and was inspired to make a dish of my own featuring chicken sausage, spinach, and chickpeas. I decided on a Mediterranean twist and added in roasted red peppers, feta, pine nuts, and lemon juice. This definitely hit the spot and got high ratings from Apolinaras.
p.s. The winner of my Ad Hoc cookbook giveaway was number 27 – congrats Erin!
Mediterranean Chicken Sausage and Chickpea Skillet
Printable Recipe
Ingredients:
1 tablespoon olive oil
1 12-ounce package chicken sausages, cut into 1/4-inch thick slices
1 red onion, chopped
3 garlic cloves, minced
16 ounces fresh baby spinach
Juice of one lemon
1/2 teaspoon salt
1 12-ounce jar roasted red peppers, drained and chopped
2 15-ounce cans chickpeas, drained
1/2 cup crumbled feta
1/3 cup toasted pine nuts
Directions:
Heat olive oil in a nonstick pan over medium high heat and cook chicken sausage slices 5 minutes or until browned; remove from the pan and keep warm. Add onion to the pan and sauté for 5 to 7 minutes or until softened; add garlic and sauté 1 additional minute. Place half the spinach in the skillet, cover with a lid, and heat 3 to 5 minutes or until wilted. Stir well and repeat with remaining spinach. Mix in lemon juice and salt. Stir in browned chicken sausages, roasted red peppers, chickpeas, feta, and pine nuts. Makes 4 servings.
Nutrition: 658 calories, 27.4g fat, 16.0g fiber, 38.3g protein per serving
Cost: $2.82 per serving