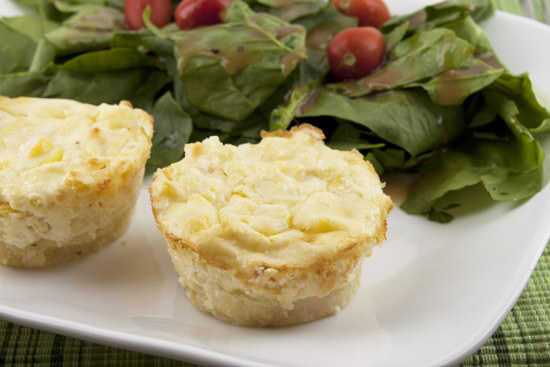 I hope you're all having a lovely holiday weekend! I'm in Iowa right now visiting my parents and so far have squeezed in a few nice runs with my Dad (with some challenging hills – yes, Iowa does have them!) and some birthday shopping with my mom. It's just been so relaxing sleeping in and having a break from both the lab and my kitchen. Despite having somehow picked up a little cold, I'm feeling very rejuvenated. When I think of Iowa, I think of corn, so I thought it would be appropriate to post a recipe featuring this summer favorite while I was here!
I really like it when sweet dishes take a savory turn and decided it would be fun to try making some mini corn and cheddar cheesecakes. I cut a precooked polenta roll from Trader Joe's into slices and put them in the bottom of the cups of a muffin tin. Then I make a cheesecake mixture that contained cream cheese, corn, and cheddar cheese. I baked them up and enjoyed them at either room temperature or cold straight from the fridge. They were perfect for lunch with a side salad!
p.s. Don't forget to enter my giveaway for an $80 CSN Stores gift card!
Corn and Cheddar Polenta Cheesecakes
Printable Recipe
Ingredients:
2 cups fresh corn kernels (my yield from 2 ears of corn)
8 ounces cream cheese, at room temperature
1 tablespoon cornstarch
1 large egg, at room temperature
1/2 cup shredded sharp cheddar cheese
1/2 teaspoon salt
1 18-ounce precooked polenta roll, cut into 12 1/2-inch thick round slices
Directions:
Heat oven to 350˚F. Place half the corn kernels in a food processor and pulse until mixture is as smooth as possible.
Combine the cream cheese and cornstarch in the bowl and beat on medium-high speed with a mixer for 3 minutes or until smooth. Beat in the egg, scraping down the sides of the bowl as needed. Mix in both types of corn (1 cup whole kernels and 1 cup pulsed in the food processor), cheddar cheese, and salt.
Discard the 2 end pieces of the polenta roll and trim the remaining 10 slices so that each will fit snugly in the bottom of a muffin tin. Place the 10 trimmed round slices in a greased muffin tin. Pour cheesecake mixture evenly on top of each and bake at 350˚F for 23 to 27 minutes or until edges are set and middle is slightly wobbly. Cool to room temperature, about one hour, and then refrigerate until well chilled, about one hour. To remove from the pan, use a knife to cut around the edges of one cheesecake and then flip the pan over and remove the cheesecake. Repeat for remaining 9 cheesecakes. Makes 5 servings of 2 cheesecakes each.
Nutrition: 341 calories, 21.3g fat, 3.4g fiber, 11.2g protein per serving
Cost: $0.92 per serving